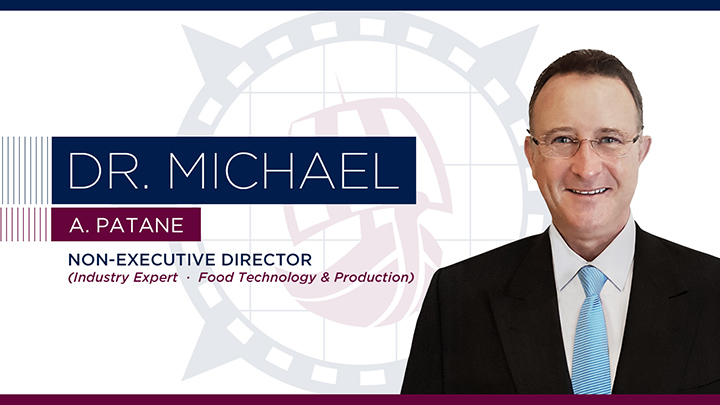 Dr. Patane is a commercially focused executive and food scientist with extensive experience in business development, M&A, sales, and technical and project management within food, flavours and ingredients industries across Asia, Europe and the United States. As a member of the management team or director at Givaudan Singapore, Mondelez International, Tatura Milk, Greens General Foods and Protech Research, he has created business and technical plans, built R&D and operational teams, designed and managed plant operations, and worked in partnership with global FMCG companies to implement new products and ingredient technologies, all with a view to improving top-line growth and EBITDA margins. A qualified biomedical, food and biochemical scientist, Dr. Patane is a technical expert fully versed in the journey from concept to commercialisation.
Technologically Driven Food Innovation
For over three decades, Dr. Patane has led and managed teams working at the cutting edge of food science, developing unique formulations, ingredients, and enzyme and encapsulation technologies to satisfy customers and shareholders alike. The many innovations he has been responsible for include:
• Encapsulation of Nissin for controlled and sustained release in processed meats.
• Sodium reduction by recrystallisation of sodium chloride with citric acid.
• Fat reduction in ice cream by improving emulsion stability using low-DE Dextrins.
Most recently, Dr. Patane was technical head for Southeast Asia at Givaudan (2017–2019), a global leader in food flavours and fragrances supplying over 25% of the world market. Prior to that, he was executive director, Technical & Innovation at Greens General Foods (2011–2015), a leading Australian manufacturer of FMCG foods ($30 million sales). From 2015–2017 he was head of R&D for confectionery a Mondelez International, an FMCG food company operating in 165 countries and with 80 manufacturing and marketing sites globally (over $35 billion sales). From 2000–2011 he was director of Protech, a food research and biotechnology company with in-house analytical, applications and pilot processing facilities incorporating 10 PhD scientists, where he worked in conjunction with overseas partners (including PepsiCo, Nestle, Unilever, DSM, Bakels, Givaudan, Symrise and Mars) to develop and commercially scale ingredient technologies.
From
Concept to Commercialization
A clear-eyed executive as well as a scientist, Dr. Patane knows the importance of delivering the right innovation for the market in a cost-effective manner and convincing customers of its value. At Greens General Foods, he directly managed a team of 16 technologists over three sites who were responsible for improving manufacturing variances by $10 million in extrusion and baking; redesigned a processing facility for snack foods; improved raw-material price points by over $9 million; applied for Federal Government funding; approved $15.5 million in CAPEX; and facilitated the launch of over 70 new products in three years through team engagement, market review and resource planning to yield over $50 million in MAT sales. During this time, he was also involved in two successful M&A transactions and a consolidation process that doubled GSV and EBITDA.
Dr. Patane also has substantial experience in sales and marketing: as Asia Pacific marketing manager for National Starch and Chemical (1992–2000), a prior subsidiary of Unilever, he expanded international business in Southeast Asia through trade and media promotions, onsite presentations and plant trials that resulted in long-term contracts for the supply of ingredients.