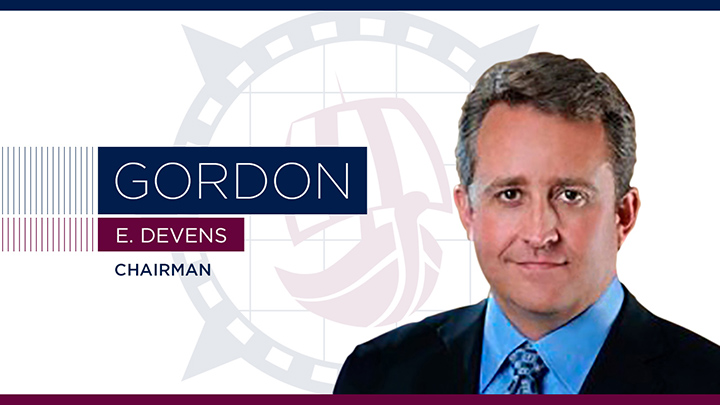 Over his 25-year career, Mr. Devens has distinguished himself as a leader, transaction executive and M&A lawyer with a remarkable track record of success. Most recently, he was chief legal officer of XPO Logistics, Inc. (NYSE: XPO), a top-10 global provider of transportation and logistics services, where he worked closely with the CEO to source, negotiate and execute 17 acquisitions over a five-year period that drove annual revenue from $177 million to more than $15 billion. Previously, he led the M&A function for AutoNation, Inc. (NYSE: AN), and served as a senior in-house lawyer on AutoNation's deal team, including during a three-year period of acquisition-led growth that boosted annual revenue from around $100 million to more than $20 billion. At XPO, Mr. Devens served as corporate secretary of the board of the publicly traded parent company and as a director of many of XPO's subsidiaries, including as vice-chairman of Norbert Dentressangle S.A., XPO's publicly traded Europe-based logistics and freight business. Mr. Devens started his career at Skadden, Arps, Slate, Meagher & Flom LLP. He received both his undergraduate finance and juris doctorate degrees from the University of Michigan.
Mr. Devens has an unparalleled depth of business and legal experience as a dealmaker pursuing acquisition-led growth with companies that became industry leaders as a result. At AutoNation (1997–2011), he was involved in 200-plus transactions, including more than 80 acquisitions and divestitures for which he was the lead transaction business executive. Mr. Devens' results at XPO Logistics (2011–2017) were no less remarkable: the 17 acquisitions XPO completed boosted annual revenue more than 80-fold, and increased the company's staff from approximately 200 to 90,000 employees globally. Mr. Devens' deal experience ranges from the $3.5-billion purchase of Norbert Dentressangle S.A., a leading Europe-based logistics and freight company, and the $3-billion purchase of Con-way Inc., a leading US-based transportation and logistics provider, all the way to single-digit million-dollar purchases of family-owned companies. Mr. Devens' acquisition philosophy, honed through his extensive experience as an acquisition program leader, focuses on creating shareholder value through disciplined acquisitions and outstanding integration.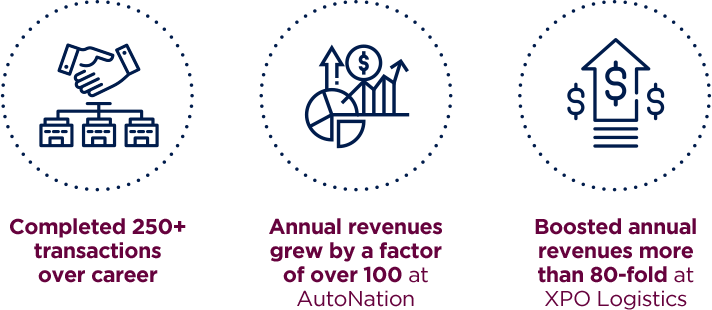 At XPO Logistics, Mr. Devens oversaw a global staff of more than 40 attorneys and professionals and was responsible for all corporate legal matters, including all legal aspects of the company's extensive fundraising activities: more than $8 billion in equity and debt offerings and bank financings over five years. At AutoNation, he likewise handled all legal aspects of the company's acquisition and divestiture programs. Mr. Devens began his career at Skadden, Arps, Slate, Meagher & Flom LLP, a leading global law firm consistently recognised by the Financial Times as among America's most innovative.